March 21, 2016: Nick celebrated 25 years with a heart transplant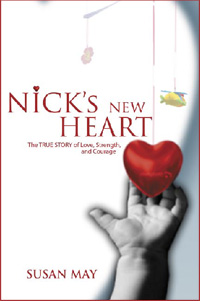 Heart transplants are high drama. They make national headlines and are subjects for TV shows. People are interested in reading about someone who has the odds stacked against them, especially if it is a twenty-three month old child. Our nation as a whole is interested in medical advances, particularly when children are involved. Nick's New Heart is about that drama. It is the story of my youngest son's heart transplant. Nick was born with a heart defect, had three open heart surgeries, and a heart transplant before the age of two.
In Nick's New Heart I share how my husband and I had to plan for the eventuality of a funeral and how we struggled to explain Nick's situation to our other three children. I tell what it was like to wait for a heart as well as what life was like after the transplant. Included is how our family lived as normally as possible even with a chronically ill child. Today, nineteen years later and despite the fact that the shadow of death is always over us, life is good. Nick is a normal, well-adjusted young man. Our family found that life can be wonderful among the unknown and uncontrollable.
I wrote Nick's New Heart because there was nothing in the book market when Nick was transplanted that was written from a personal experience point of view about a child having a heart transplant. I still remember desperately searching for anything to read on the subject. I know the frustration of not being able to locate a book that met my needs.
Nick was a pioneer in pediatric transplants. At the time he was transplanted only one hundred and fifty children under the age of eighteen had received heart transplants. The number under the age of two was even fewer. There was only a hand full of parents who had experienced what we were living through, therefore no established support group. I hope Nick's New Heart gives other families a place to turn to in order to get first hand information from another family that has lived with a chronically ill child.
Buy the book:
Amazon
Tiger Iron Press
Now Out as an ebook for
Amazon Kindle

On the Suggested Reading List for Between the Lines with Valerie Jackson www.pba.org WABE FM 90.1 in Atlanta

On the large screen at the front of the filled auditorium is a picture of a child. It appears to be a boy around two years of age. The boy is sitting Indian style and has mud from head to toe, and a huge grin on his face. Dr. Kirk Kanter, a heart transplant surgeon at Children's Hospital of Atlanta at Egleston is standing at the podium speaking to the class of nurses.
"This is Nick May. I transplanted him two weeks before his second birthday. His mother sent me this picture she took right after the transplant. With the picture was a note that read: Dr. Kanter, You promised me quality of life with a transplant. And what is quality of life for a two year old, but a mud puddle.
If you wonder why we do transplants, this is why."
Check back here for information on Susan's upcoming book,
Nick's New Heart
---
"I believe the single most significant decision I can make on a day to day basis is my choice of attitude. It is more important than my past, my education, my bankroll, my successes or failure, fame or pain, what other people think of me or say about me, my circumstances or my position. ATTITUDE is that single string that keeps me going or cripples my progress. It alone fuels my fire or assaults my hope. When my attitudes are right there is no barrier too high, no valley too deep, no dream too extreme, or no challenge too great. We have the right to choose our own attitude, bitterness or forgiveness, give-up or go on, hatred or hope, determination to endure or the paralysis of self pity. Life is 10% what happens to us and 90% how we respond to it."
Unknown
Hope for children with Hypoplastic Left Heart Syndrome
Power By Ringsurf
* Congenital Heart Disease Webring *
Power By Ringsurf
*New*